Cleaning and Caring for Invisalign® Aligners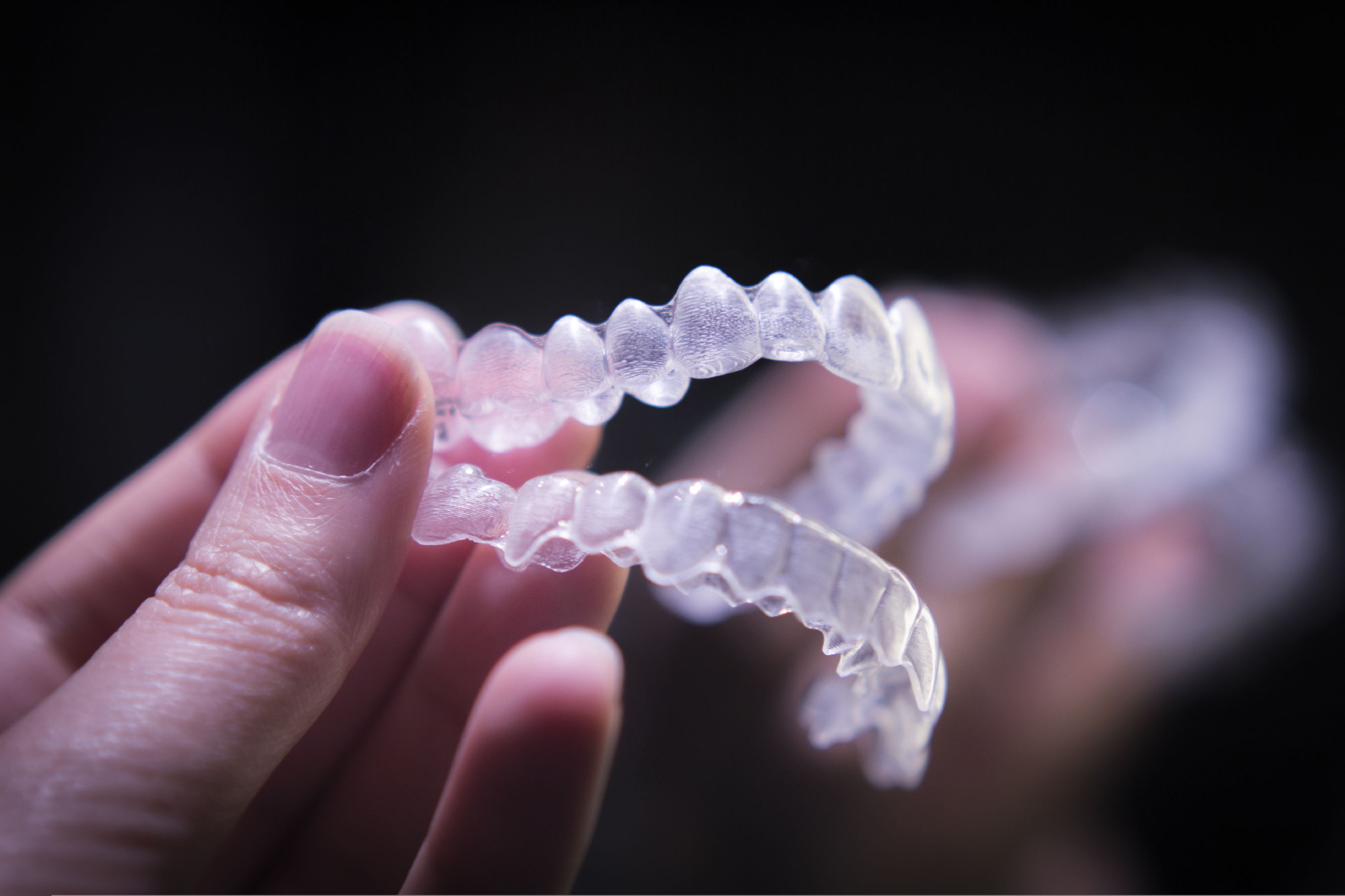 Known as invisible braces, Invisalign​® straightens the teeth and corrects the position of the jaw to provide patients with a healthier and more attractive smile. Invisalign uses clear plastic aligners to provide subtle and consistent pressure to correct malocclusion problems.
It is very important that patients take good care of their aligners. At Boston Prosthodontics, our dental team is happy to provide tips that will make cleaning and caring for Invisalign aligners easy for our Boston, MA, patients.
Remove Aligners When Eating
Invisalign aligners are removable, which is one of the many features that sets them apart from traditional braces. Because the aligners are removable, our Boston patients do not have to deal with the many food restrictions that accompany braces treatment.
However, removable aligners are not just a convenience. To protect the aligners and keep them clean, patients must remove the aligners every time that they are eating or drinking anything other than water.
If patients keep the aligners in place while eating, they will be more prone to damage and discoloration. Eating with aligners also increases the risk of tooth decay and other dental complications because food particles can get trapped between the teeth and aligner trays, where they will attract bacteria.
Clean Aligners Daily
Because aligners need to be worn for a minimum of 20 hours a day, it may seem difficult to get in a good cleaning, but daily cleaning is vital to Invisalign care. By following a few simple tips, patients should find it easy to keep the aligners clean:
Rinse the aligners every time they are removed
If possible, soak the aligners while eating a meal
Gently brush the aligners each night when brushing the teeth
Avoid brushing the aligners with toothpaste; instead, use warm water, clear antibacterial soap, or a special Invisalign cleaning solution
Keep the Aligners in a Case
It is important to keep the aligners in a case any time that they are not being worn. Aligner cases serve many purposes:
Cases protect aligners from damage
Cases make it easier to track aligners so that they aren't lost or thrown out
Cases help prevent bacteria buildup on aligners
Practice Good Oral Hygiene Habits
Keeping the aligners clean is important, but if patients are not practicing good oral hygiene habits, they will still be at risk for tooth decay, gum disease, and other dental complications. It is extremely important that patients continue to brush and floss regularly throughout Invisalign treatment, as well as schedule routine dental exams and cleanings.
In addition to regular oral hygiene habits, patients should take extra care to ensure that the aligners are placed on clean teeth. Whenever possible, patients should brush the teeth after eating, before putting the aligners back in. If they are not able to brush, patients should at least rinse the mouth well with water before inserting aligners.
Contact Us
If you are interested in straightening your teeth without metal brackets and wires, you may be an ideal candidate for Invisalign. Contact us to learn more about this tooth straightening treatment, or call (617) 523-5451 to schedule an appointment with one of our experienced dentists at Boston Prosthodontics at your earliest convenience.
Related to This