The Stages of Gum Disease: Gingivitis and Periodontitis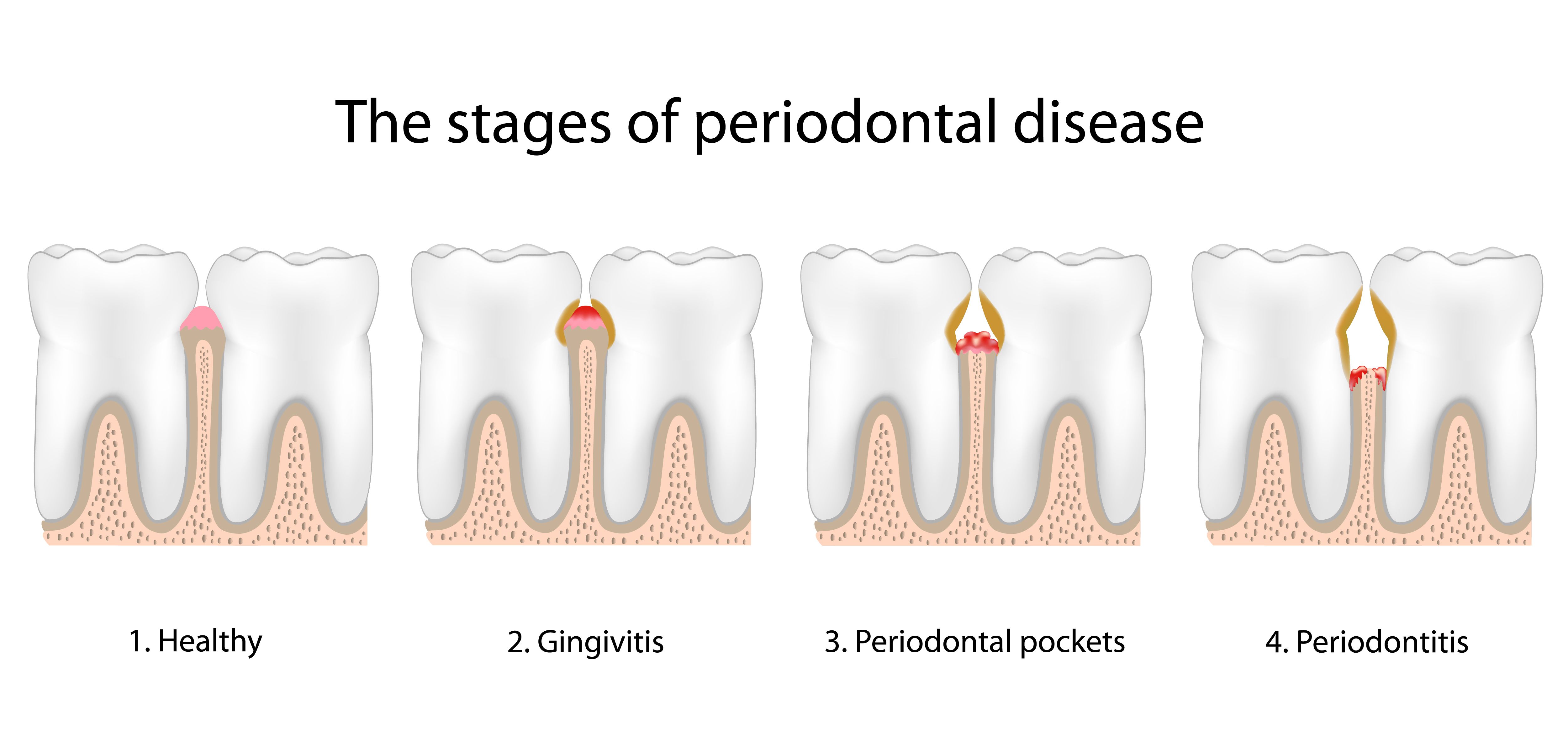 What is the number-one cause of tooth loss among American adults? If you answered tooth decay or root canal infections, you're close but wrong. The number-one cause of tooth loss among American adults is actually gum disease. Gum disease is the most destructive of all oral health problems, by far. It is also, unfortunately, the most common of all diseases, affecting approximately 75 percent of adults to one degree or another. That's right - three out of four people have gum disease, meaning that three out of four people are currently at risk for losing at least one of their teeth.
It doesn't have to be this way, however. Gum disease is preventable, especially when it is diagnosed in its earliest stages. Even for those people with advanced gum disease, it is never too late to seek diagnosis and restorative treatment.
At Dental Associates of New England, we encourage all patients to visit our cosmetic, restorative, and general dentistry practice at least twice a year as recommended by the American Dental Association. This is the best way to achieve and maintain optimal gum health. It also allows our dental team, led by Dr. John D. Meola, to acquaint patients with the stages of gum disease at our two Boston, MA area offices. Knowledge truly is power when it comes to fighting gum disease and other serious oral health conditions.
If you are in need of premium oral health care, we encourage you to schedule your initial consultation at Dental Associates of New England today.
What Are the Two Stages of Periodontal Disease?
Periodontal disease occurs in two basic stages, gingivitis and periodontitis. It is best to have the disease diagnosed in the former of these two stages, when it is easiest to treat and whatever damage that has been done can generally be reversed. However, even patients with periodontitis can benefit from treatment and restore their mouths to an optimal state.
Gingivitis
Patients with gingivitis may not realize that they have gum disease, as symptoms may be subtle at this point. Common symptoms include slight bleeding during brushing or flossing, as well as mild discoloration or tenderness. Gingivitis is caused by plaque buildup, and not all plaque can be removed by toothbrushing alone.
Plaque that is not removed over time will harden into a substance called tartar, which can only be removed by dental professionals. For this reason, even people who regularly brush and floss will inevitably develop gingivitis if they do not visit the dentist for routine cleanings and oral exams.
Periodontitis
If gingivitis is not treated professionally, it will eventually progress into periodontitis, the more severe stage of gum disease. Periodontitis progresses through several stages of its own:
The connective gum and jaw bone tissues that support the teeth begin to degrade.
The gums then start to separate and pull away from the teeth.
Pockets form between the teeth and the gums, creating a safe haven for bacteria.
The jaw bone and gums start to deteriorate.
Infection begins spreading throughout the mouth.
The teeth become loose, causing orthodontic problems.
Eventually, teeth will start to fall out.
Learn More about the Stages of Gum Disease
Take a stand against gum disease. Contact Dental Associates of New England today.
Related to This